In our fourth walk we were asked to consider our dawn. Learning is my dawn. Each bit of knowledge I share, steal, teach, or tag awakens a new day. So for my make this walk I am sharing what I hope to be a first in  a series (most series end after one possibly two episodes) of using images to teach poetry.
I'd have to check the program but I think the first session Sue and I presented at LRA had a title of "Non-Vrbocentric Approaches to Teaching Response and Authorship of Poetry. We sat down to dinner with Rosenblatt but ended up leaving arm and arm with Bakhtin.
Remixing Tone, Imagery and Images
I always share this activity with other poets and teachers. I have my pre-service teachers think about imagery and tone by writing two different poems about the same picture. The only difference found in the mood and the tone. Poets can challenge (I didn't) themselves by trying to play with the structue of the poem. Try for parralesim and antithetical meaning between the two.
How to Write With Students
This lesson is quite simple. I wrote it up fully on the maker menu for #walkmyworld. In this example I used Flickr, a Kindergarten skill, paper, Google Slides.
Find an image
I like to take every opportunity to reinforce open practices with other poets. I encourage them to use openly licensed work and to provide proper attribution.
Familiarize yourself and other poets of different Creative Commons licenses. Creative Commons does not mean Public Domain.
Go to Flickr
Use the Search Bar.
Even though you begin on the creative commons page once you search you see images with all licenses. Much of the content have all-rights reserved.
Choose only Creative Commons Licensed Images
Note what you need for attribution

I have been favoriting anything I use.
If I download the photo I rename it and include photographer, title, license

Download or get the link to the photo
Think Like a Kindergartner
Every poet young our old needs gentle reminders to paint a picture with words. I often use an excercise I taught 6 year olds poets t when writing. Make a list of the five senses. Use sensory details to show and not tell.
I often make a list of the senses and refer back to it as I struggle to assemble my bricolage of meaning.
Use Paper
Okay this is just me. You don't have to subscribe to my method in any way but I always draft on paper first. I find my thinking to be much quicker and more non-linear in the mode.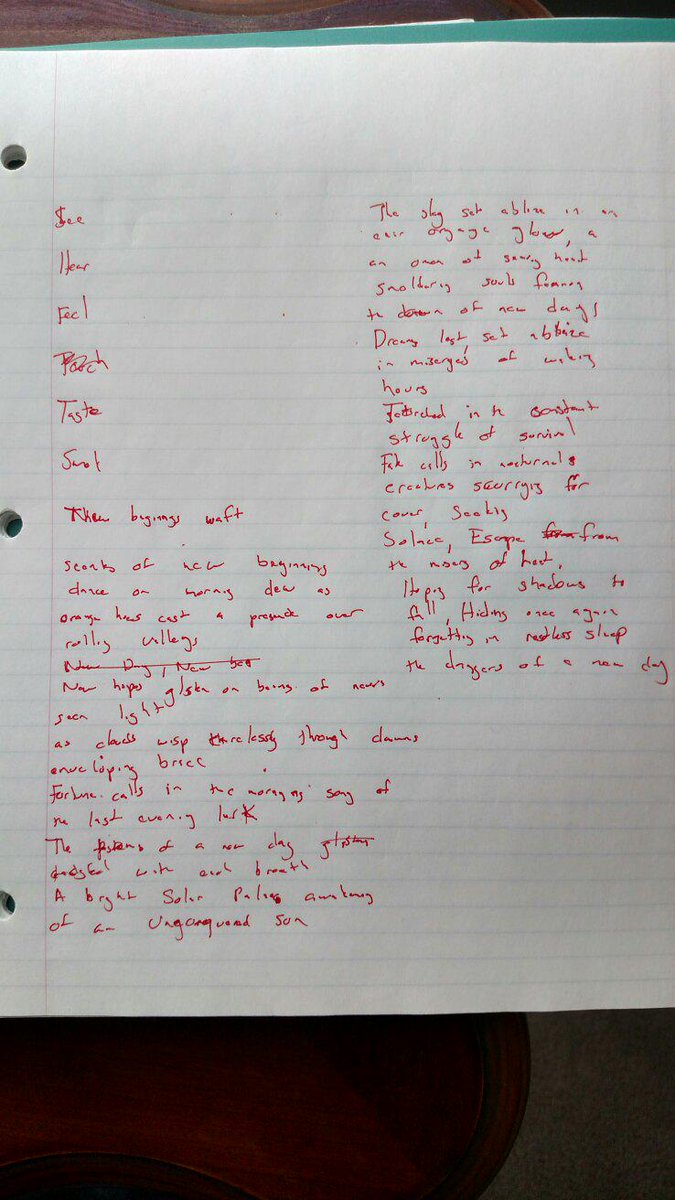 Create Slide Deck
Go to drive.google.com (or use your favorite slide deck, PPT, Hakiudeck, Explain Everything)
Add the image as the slide background
Type your words on top.
Publish to the web and share with the world.